THE BOARD
The RCMBA Board is a diverse and dedicated group of riders, advocates, and trail builders. If you see us out on the trail or around town, feel free to stop us and chat; we are almost as excited to talk about biking and trails as we are to actually be riding.
The Board usually meets the first Monday of every month and anyone is welcome to attend. Email info@redwoodcoastmtb.org for time and location.
We currently have a Board position open. If you interested or have questions about what the Board does, feel free to contact us. Finally, here is a link to download the ByLaws.
Chair
Tom PhiLlips
Tom is a civil engineer by day and a trail builder, guitar builder, and dinner maker by night. Tom has been a major force behind several trails in the area, and most recently for the trail systems on Green Diamond Resource Company (GDRCo) in Blue Lake, and the BLM Lacks Creek Management Area. He and our Vice Chair, Sean Tetrault, have secured a land use agreement with the GDRCo build mountain bike-specific trails in Blue Lake. See our projects page for more information. He continues to work towards more land use partnerships and is always welcome to fresh ideas, especially over a beer.
Favorite trail snack: Salami and cheese
Vice Chair
Sean tetrault
Sean is co-owner of Revolution Bicycles, and is a Humboldt local who grew up in Eureka. He'll open your beer and fix your bike, but he loves riding fast and can turn some heads doing it. Sean has worked hard on landowner partnerships in the region, and is deeply rooted in local mountain bike history over the last twenty-plus years. Sean is the other half responsible for the up-and-coming trail system in Blue Lake, CA. See the projects page for more info.
Favorite trail snack: Whiskey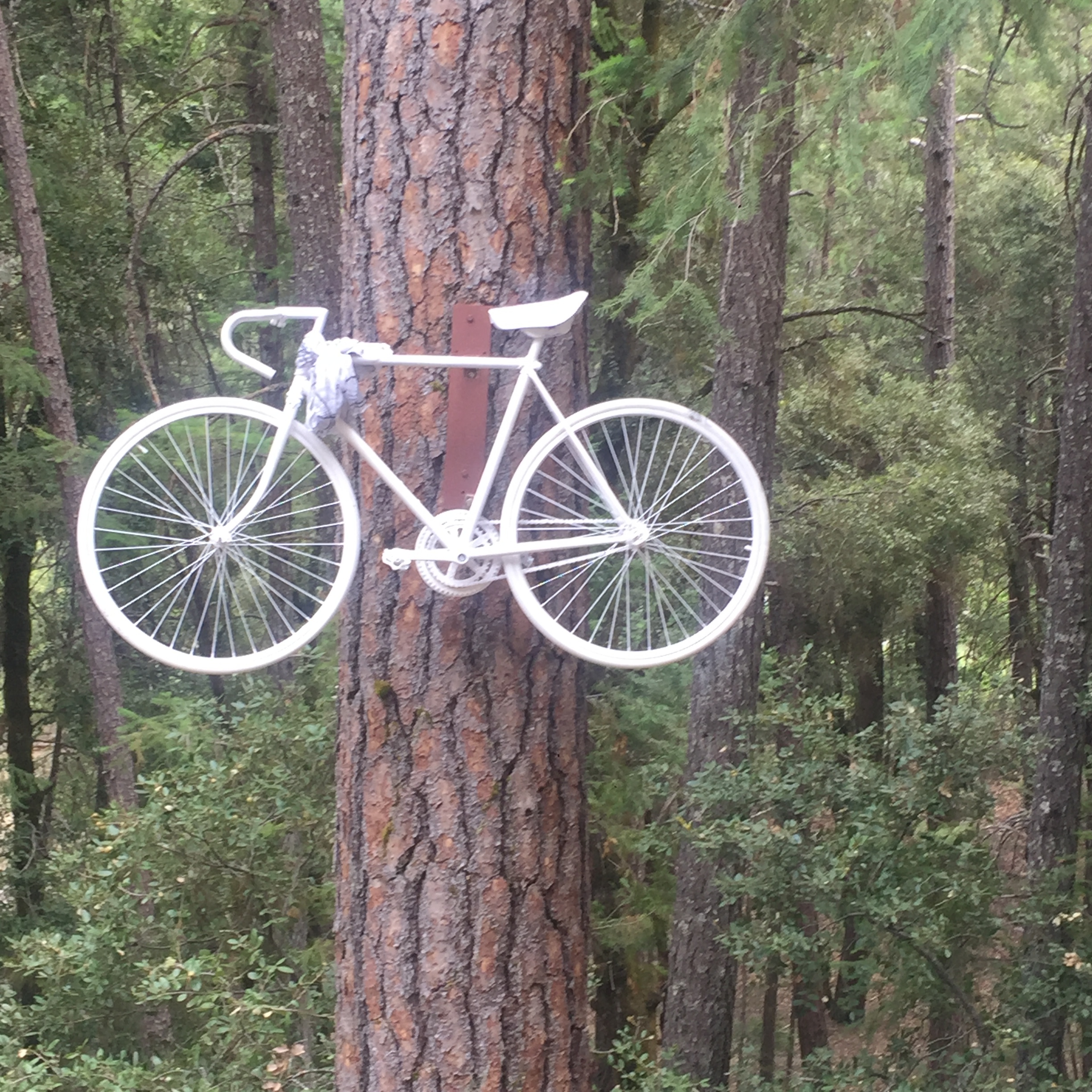 Secretary
Gina Bauer
Gina is a valuable, energetic, and reliable member of the club. Between rides, she does a few things which include finding sponsors, promoting events, fundraising, raising kids, being an ER nurse, bringing salad to the board meetings, and organizing everything. She does it all intently and all at 100%. She takes care of everyone on trips and rides, making sure the stoke is high. In an effort to get more females on the trails, Gina also started the Monday night ladies ride which has seen big groups attend regularly. Gina is a pro and we are lucky to have her in our camp.
Favorite trail snack: Smoked salmon
TREASURER
BEC LAW
Bec is our new treasurer, voted in at the meeting in February. We are excited to have her on the team! She has a no-nonsense attitude when it come to duty, but she's the first to crack a joke at any gathering. She's had more shoulder surgeries than you've had flats, and still rides like a bat out of hell on a night ride, so watch out. We're glad she stepped up to the plate to fill the role of treasurer, especially with the fundraising efforts coming later this year.
favorite trail snack: Almonds
COMMUNICATIONS Chair
Hollie Ernest
Hollie is usually daydreaming about bikes while working as a forestry and botany technician, but also stops to look at flowers and trees on every bike ride. She's learning to get the bike in the air and enjoys uphill as well as rocky descents. As co-chair for communications, she tells anyone who will listen - and some who may not- about RCMBA and all the fun and great events going on! C'mon, pull up a chair.
Favorite trail snack: Bacon
HOSPITALITY CHAIR
TIM DANIELS
The club would not be where it is without Tim, hands down. Former Chair and general fill-in-the-gaps person, Tim makes sure ALL riders at any RCMBA event feel supported, welcome, and well fed. The Banana Slug events, RCMBA's annual training ride series, go off without a hitch each year from January-April thanks to Tim. These rides get folks out of the house rain or shine and keeps everyone riding strong through the winter.
Favorite trail snack: Beer.
MEMBERSHIP & TECHnology CHAIR
TRAVIS JAMES
Travis is one of the most dependable guys around with a can-do attitude. He'll bring his own tools to a trail day, help with any computer issues, and stays motivated and until the job is finished. Always positive and ready to take on any tasks that need to get done, he's the perfect person to make sure our membership is up-to-date and well-informed.
Favorite trail snack: oatmeal cookies
MERCHANDISE CHAIR
LACEY COMER
Lacey is a charismatic and quality addition to the board, always getting her bike in the air, with shoes and helmet that match, this lady has style. She is also Gina's right hand woman, and uses that charisma to seek out sponsorship for events, and recruits more women on the trails. She recently stepped up to be our merchandise chair so if you want one of the cool jerseys you've seen around (wool long sleeve and plaid short sleeve), contact her at laceycomer@gmail.com.
Favorite trail snack: Dick Taylor dark chocolate
WEBMASTER
tAI-aQUA mORGAN-mARBET
Tai became a member when he heard about the Hatchery Ridge Trails. Having been riding on mountain bikes for about 6 years now, with many years on a road bike prior, he was always trying to hone in on his skills as a rider. When he isn't out working as an engineer or a land surveyor by day, he is riding and exploring Humboldt County. Tai wanted a great way to give back to the mountain biking community and help in trail construction. Thus, he started showing up to meetings every month and was voted in as a board member six months later. Tai now manages the RCMBA website and ensures that it's up to date.
Favorite trail snack: Golden Berry Mix from Trader Joes
BOARD MEMBER
SEAN ROBERTSON
Sean (second from left) is a crucial board member always bringing new ideas to the table and is dedicated to getting kids out riding. He is the Head Coach and creator of the Humboldt Composite High School Mountain Bike Club, which is having great success at races across northern California. In 2019, Sean was voted Best Coach of the Year. Getting kids out riding is one of the best things one can do in life so hats off to you, Sean! He is also a liason between RCMBA and the City of Arcata working on agreements for more legal trails in our area, as well as a pump track in redwood park!
Favorite trail snack: Banana nut bread
BOARD MEMBER
STEVE JONES
Steve showed up at the February board meeting and said "I've been riding for 35 years, I have a little free time, and I'd like to help on whatever is needed. But Saturdays are ride days and I can't budge on that." Steve, friend, you are in the right place. Steve moved to Humboldt County in 1978 to attend HSU and rode his first mountain bike in 1982. he says he is just now figuring out how to ride, while living in Sunny Brae with trails a couple of blocks away. He's been doing Saturday and Wednesday night rides for decades now, but that could change 'cause he's retired now!
Trail Mantra: No gear too low, no speed too slow
Favorite Trail Food: Clif Bar Cool Mint Chocolate
MEMBER-AT-LARGE & race directoR
STEVEN PEARL
Steve is well known around town as a strong all around rider and also as just a nice guy. He shreds it going up and down hill, rides road, BMX, and will stop to ask anyone about their day with a huge grin on his face. Steve is the race director for the Mad River Enduro held Blue Lake, drawing dozens of riders to the area. He helps out with our social media accounts, provides technical support on deliverables, builds trail, and is a life long bicycle ambassador. He's got plenty events dreamed up so stay tuned.
Favorite trail snack: Raisins
past Treasurer - Jenny Mason
Our dear friend Jenny passed away in June 2017 while riding her bike along the Salmon River. Her passing was a shock to us all and we want to continue to honor her memory. The sunshine, contributions, and positivity that Jenny brought to our lives and to the RCMBA board cannot be said enough This picture is of her ghost bike, which hangs along the north fork of the river. Some of us have left talismans and encourage others to do the same. There are things that remind us of Jenny- you may see a guitar pick in the bark of that pine, and you may see a sticker reading, "F*&k yes I ride like a girl... do try to keep up" on a rock. She was sassy and smart and fun and wonderful. We have all been lucky to know her, and our hearts continue to go out to Jenny's family.